Hardware Barrier Synchronization For A Cluster Of Personal Computers+
T. Muhammad
MS Thesis Defense
School of Electrical Engineering
Purdue University
West Lafayette, IN 47907-1285
February 2, 1995


( 4K .ps.Z )
+ This work was supported in part by the Office of Naval Research (ONR) under grant number N00014-91-J-4013.
Treats a group of machines as a parallel machine
Workstations and PCs offer high performance, low cost
Networks increasing bandwidth, decreasing cost:
Politically correct (use things you already have)
Fine-grain parallelism needs low latency
Networks designed for bandwidth, not latency
Minimum latency of 1,000-5,000 microseconds
Need efficient barrier synchronization
Data parallelism and SPMD workforce models
SIMD and VLIW emulation
Megjou Lin et al. used an ATM cluster of 4 Suns to compare performance of AAL5, API, PVM, and BSD stream sockets
Latency was 800µs -- 3,000µs
Chengchang Huang used an ATM cluster of 11 SPARC-10 with PVM and AAL5
Latency was >1,000µs
NAS (NASA Ames Lab) tested various clusters with PVM
Latency was >700µs for IBM Allnode, 2,000µs -- 3,000µs for FDDI and Ethernet
Thekkath proposed a "remote memory" model using 4 DEC R3000 machines with ATM hardware
Latency as low as 30µs to 45µs?
Signal present at barrier
Wait for all participating processors
When all have arrived, resume execution
Software/messaging implementations are inefficient
First used by Harry Jordon in FEM, 1978
Priority chain hardware
Burroughs FMP
AND tree hardware, tree-node partitioning
Fuzzy barrier by Gupta
Delayed firing, overly complex hardware
Thinking Machines CM-5
Control network works like AND tree
Cray T3D
like FMP, but 8 bits wide
Everybody built static barrier hardware
Static: one barrier stream
Dynamic: multiple independent barrier streams
(arbitrary partitioning of the machine)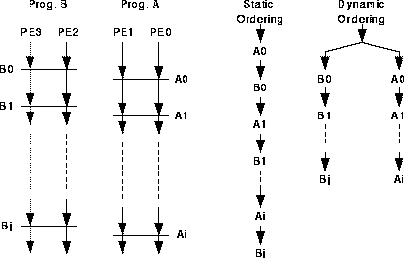 ( 11K .ps.Z )
Any set of processors can be a barrier group
A group can be represented by a bit mask
Concept of arbitrary masks came from H. Dietz and T. Schwederski at Purdue in 1987 as outgrowth of PASM SIMD enable logic
Runtime partitioning method was not specified
1987

Basic Concepts of barrier MIMD
Compiler technology based on VLIW scheduling

1990

SBM using a "barrier processor" and mask queue
DBM using a "barrier processor" and associative mask memory
Compiler technology based on timing analysis

1993

Improved DBM design with runtime partitioning support
1987

PASM implements SBM

1987

CARP (Compiler-oriented Architecture Research at Purdue)
Machine design: barrier MIMD using custom VLSI

1993

CARDBoard (Compiler-oriented Architecture Research Demonstration Board)
System design: DBM using RISC microprocessors in a custom board

1994

PAPERS (Purdue's Adapter for Parallel Execution and Rapid Synchronization)
Cluster design: DBM using PCs and an external adapter
PAPERS0 implements improved DBM
Initially, intended to be an SBM
Simple global AND hardware
Extended load processor interface (like PASM)
Load address is decoded as barrier request
Load does not complete (logic inserts memory wait states) until all processors are present
Implement "distributed" DBM hardware
Replicate OR-AND trees for each processor
Uses barrier masks stored locally by each processor
Extended load interface, but some address bits are decoded as the barrier mask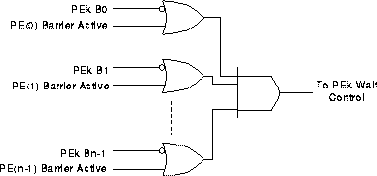 ( 9K .ps.Z )
Runtime partitioning seemed desirable, but:
Must use separate data network to agree on new masks
Once partitioned, subgroups can't recombine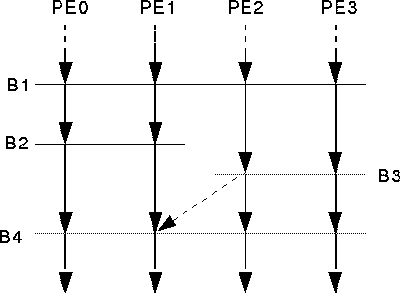 ( 8K .ps.Z )
Invented in October 1993
Adds to basic CARD DBM design:
Load address includes a one-bit flag value
Load returns a bit vector gathering the flag bits from all processors
Every processor send its n-bit mask, each bit to the corresponding processor
Partitioning doesn't need a separate data network
Recombining subgroups works
Wiring complexity goes from O(n) to O(n2)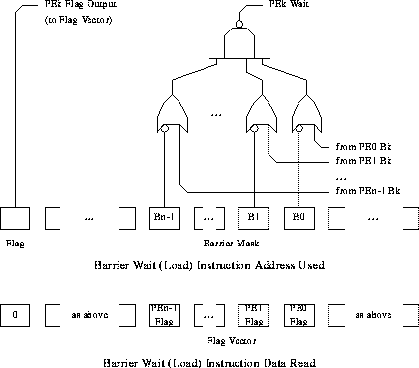 ( 5K .ps.Z )
CARD project was delayed waiting for:
Microprocessors (first TMS320C30, then AMD29050 and PowerPC601)
Xilinx glue logic design support tools
More design and construction experience
(no new hardware since 1987)
Improved DBM is very new --
we needed to test the design concepts
Use standard PCs as processing elements
Barrier unit is an external box connected to all PCs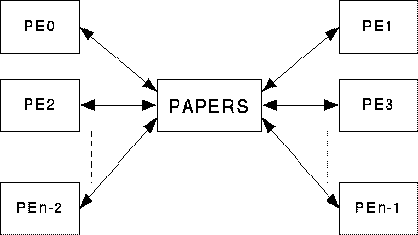 ( 8K .ps.Z )
Use a custom interface card:
ISA, EISA, VESA, or PCI
Use a standard interface:
RS232, Parallel Printer Port, SCSI
Why we use the parallel printer port:
Number of usable signal lines
Simplicity of the hardware interface (TTL logic levels)
Relatively easy direct software access to the port
(very low latency)
Load interface cannot be implemented!
Printer port is mapped as an I/O device
Signals controlled by data bus read/write of I/O registers
Requires a minimum of two port accesses, at 1-5 microseconds each
Running Linux (UNIX) on each processor blurs timing
Must use a memory element to ensure barrier GO signals are not missed
Must distinguish between barrier request and barrier seen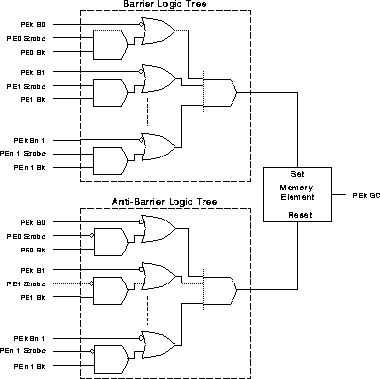 ( 14K .ps.Z )
Needed to achieve initial synchronization
(known barrier state)
To recover from program errors
(including mask errors)
To use PAPERS for parallel OS functions
(without an additional network)
Simplest form is a global OR of IRQ from all PEs
PAPERS is partitionable, so interrupt should affect only the specified partition and use AND-OR tree implementation
Reciever determines which processors can interrupt it
Requestor determines the group it will interrupt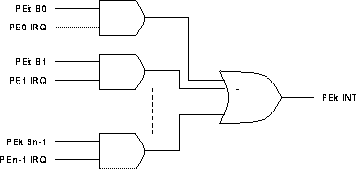 ( 9K .ps.Z )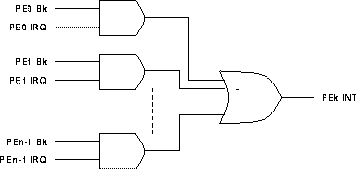 ( 9K .ps.Z )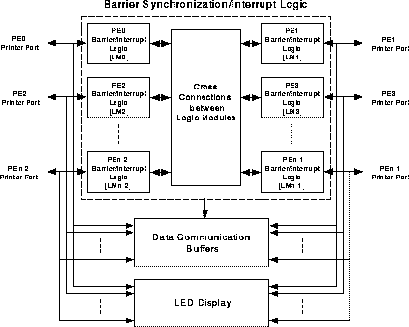 ( 12K .ps.Z )
Connects four PCs or workstations using improved DBM
For each processor:
One PLA implements barrier and interrupt logic
Data bits are buffered through TTL drivers
10 status LED display
Connection to the PC is made via a centronics printer cable
PLAs have common internal logic but different connections between chips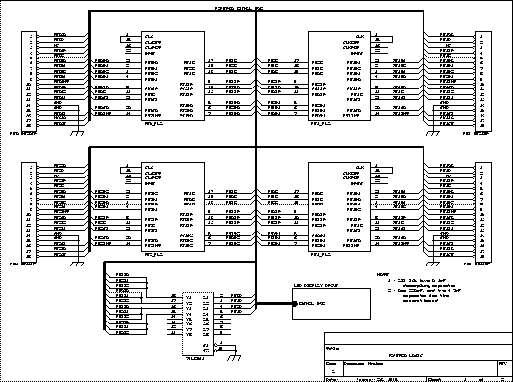 ( 13K .ps.Z )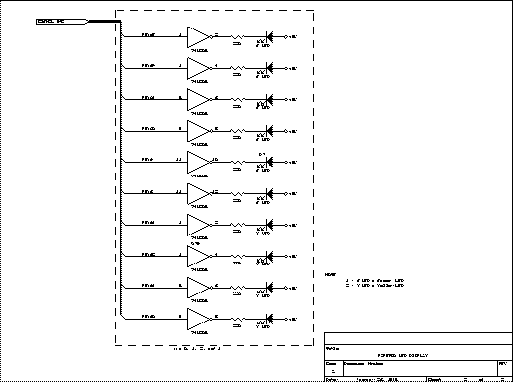 ( 9K .ps.Z )
It really works... with speed limited by slow ports
Low latency barrier synchronization
Low latency data communication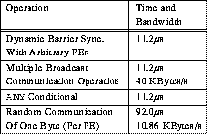 ( 4K .ps.Z )
Fine-grain MIMD and SPMD with barriers
Fine-grain SIMD emulation
Fine-grain VLIW emulation
What do we mean by fine grain?
Minimum PAPERS0 communication takes 11µs on a 4 MFLOPS machine
PAPERS0 grain size is about 44 FLOPS
Newer PAPERS units are at 2.5µs, or about 10 FLOPS
The improved DBM needs one-bit multi-broadcast, thus, PAPERS0 can implement any aggregate communication function without routing conflicts
Later versions of PAPERS expand this:
ANY and ALL tests
Multibit global OR, multibroadcast
Voting operations
Voting operations allow PAPERS to be used for scheduling access to other resources
(e.g., a high-bandwidth network)
"Standard" printer port?
Driving TTL levels through lousy 10' cables and too many connectors...
Can go from 4 or 5 port accesses/op to just 2
Fancy LED displays help debugging, but...
A cheap AC adaptor + 7805 works as well as a $50 power supply
Wire wrap creates debugging problems
PAPERS an effective way to interconnect computers in a cluster
PAPERS0 is the first system to make a PC/workstation cluster capable of fine-grain mixed-mode parallel execution
Experiments with PAPERS0 have thus far spawned 5 generations of other PAPERS prototypes, including a publically demonstrated and released simplified version (TTL_PAPERS)
Implementation for larger clusters:
TTL_PAPERS SBM design for 32 processors
Full DBM PAPERS design for 16 processors
Plans to scale to 128 or 256 processors within this year
Design of a minimal custom interface board that will allow the Load interface to be used with existing PAPERS designs
A high-performance PCI-interface PAPERS... hopefully leading to CARDBoard and perhaps even a CARP machine
Use of the unidirectional parallel printer port for parallel processing
Simplified construction of the prototypes
Portably yields good performance
I played a leading role in designing, implementing, and debugging the first DBM ever built
My thesis explains how and why the barrier mechanism evolved into the improved DBM
PAPERS works very well, and has been very well recieved by the parallel processing research community:
Equipment loans/donations from TI, IBM, DEC, etc.
20'x20' research exhibit at IEEE/ACM Supercomputing '94
Publications
H. G. Dietz, T. M. Chung, T. I. Mattox, and T. Muhammad, "Purdue's Adapter for Parallel Execution and Rapid Synchronization: The TTL_PAPERS Design," submitted to International Conference on Parallel Processing, August 1995.
H. G. Dietz, T. Muhammad, and T. I. Mattox, TTL Implementation of Purdue's Adapter for Parallel Execution and Rapid Synchronization, Purdue University School of Electrical Engineering, December 1994.
H. G. Dietz, W. E. Cohen, T. Muhammad, and T. I. Mattox, "Compiler Techniques For Fine-Grain Execution On Workstation Clusters Using PAPERS," 7th Annual Workshop on Languages and Compilers for Parallel Computing (also to appear as a book chapter from Springer Verlag), pp. 3.1-3.15, Cornell University, August 1994.
H. G. Dietz, T. Muhammad, J. B. Sponaugle, and T. Mattox, PAPERS: Purdue's Adapter for Parallel Execution and Rapid Synchronization, Purdue University School of Electrical Engineering, Technical Report TR-EE 94-11, March 1994.